Kidcrew Resources
Virtual Visits

 Information and Resources

Kidcrew Resources: Comprehensive guides for fostering healthy, thriving children and empowering confident, informed parents.
Guide To Virtual Visits
Connect with your doctor by video or phone. See your pediatrician or health-care provider via secure video or phone, from the safety of your home, or on-the-go via tablet or smartphone. Didn't find your answer, contact us!
Prescriptions, Testing, and Referrals
Our pediatricians can review medications renewals and prescribe new medications as required. We can determine if any investigations or referrals are recommended
Virtual Visit FAQs
Virtual visits can be used to answer questions about your child's health and wellbeing, review symptoms, and develop management strategies.
Privacy and Virtual Visits
We take your privacy very seriously. Your data is kept strictly confidential in accordance with the Personal Health Information Act (PHIPA).
Benefits of Virtual Visits
Virtual visits are easy and accessible. Receive a pediatric assessment in the comfort and safety of your home at a time that is convenient for your family.
Your Virtual Visit Guide
Ensure your child's illness is caught early with no delay. Learn more about virtual visits and how they can provide peace of mind and keep your family healthy.
Virtual Visit Checklist
Before your visit, ensure you have your child's OHIP card, and a phone handy for audio or video call. Ensure an English speaking caregiver is available.
Free Download
Our Guide to Virtual Care
by Dr. Dina Kulik,
MD, FRCPC, PEM
Pediatrician, Emergency Medicine
Hi, I'm Dr. Dina Kulik,
Virtual medicine has transformed how we deliver expert pediatric care. Kidcrew is so excited to offer virtual care to children and families under our care, helping to ensure your family stays healthy and happy!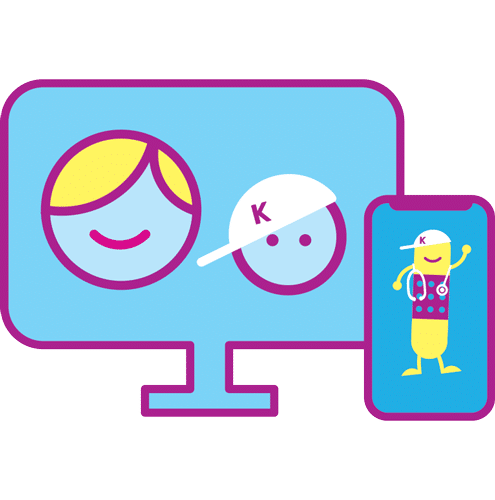 Your Questions About Virtual Care Visits
My pediatrician is unavailable, are you accepting new patients?
We are accepting primary care patients at this time.
We are accepting In-Person sick visits, 7 days a week, with one of our Pediatricians on call. Don't hesitate to contact a healthcare provider for any health issue. We are available – usually with same-day visits – and please understand delaying health care could make the problem worse or lead to further complications.
Click to Book an Appointment.
Can I speak with a pediatrician online?
After December 1, 2022, The Ministry of Health only supports virtual care provided by a patient's primary care provider. Patients must be physically examined every two years by their primary care provider for virtual care to be accessible.
Only a physician who has examined a patient in person in the last 24 months can provide virtual care to that patient.
Please use our online portal as an existing primary care patient for convenient and fast booking.
https://kidcrew.com/booking/
If you see your child's primary care physician listed in the online booking area, you are welcome to book a virtual appointment with your doctor using that link. If you do not see your doctor's name or there are no appointments listed, please email us at medical@kidcrew.com.
Directions – TTC and Driving
Our address is: 1440 Bathurst Street, Toronto, Ontario M5R 3J3
TTC – Public Transit
Kidcrew is accessible from St. Clair West subway station, a 5 minutes walk from the office. Or take the streetcar on Bathurst Street, and walk south to Kidcrew. Or take the #7 Bathurst bus to St. Clair and we are a short walk from there.
DRIVING DIRECTIONS
Here is a link via Google Maps.
PARKING MAP
Click here for a detailed parking map with parking information.
What are your business hours?
We accept patients by appointment only, including after-hours and virtual visits.
Regular Hours: Monday to Friday: 8:00 am to 5:30 pm.
After Hours and Virtual Care: Monday to Friday: 5:30 pm to 8:00 pm. Saturday & Sunday, 9:00 am to 3:00 pm
Click to Book an Appointment.
Can we schedule the same day?
We have Pediatricians available daily for In-Person visits. Book Online Here.
We prefer that in-person well-baby checks and vaccine visits be booked in advance. Please click here to book your in-person visit.
Do I need to see the doctor for a prescription?
In some cases, you do not need to come into the office for a prescription. Rather, you can book a virtual care visit.
A physician practicing virtual medicine can order medications, as well as order investigations such as blood work and imaging.
How do I get an appointment with the specialists?
A referral must be received by the office prior to scheduling any appointments. The referral can be from your family doctor or other physicians.
Please direct them to our Referral Form on our website.
What is the anticipated wait time to see a specialist?
We do try to accommodate specialist appointments as soon as possible, however, there may be a two to four-week wait to be seen by the specialist.
What is After Hours Crew?
After Hours Crew is our team of expert pediatricians who are available 7 days a week, with same-day visits!
Avoid those dreaded long lineups at walk-in clinics.
Your child's health is our highest priority, so please don't delay, and contact us if you have any concerns or health issues to address, however small.
We have a team of pediatricians to help and are not too busy to help you and your family.
Available to any child in Ontario, and covered by OHIP.
Available 7 days a week. To schedule an appointment, click here.
After Hours In-Person & Virtual Care:
Monday to Friday: 8:30 am to 8:00 pm
Saturday & Sunday 9:00 am to 3:00 pm.